22 January 2015
I'll be performing a live set for Sessionview
After the act there will be a Q and A.
COME
EVENT: http://on.fb.me/1BF7T2z
4 November 2014
This Thursday November 6 I'm playing a live set at TrouwAmsterdam together with Keren Rosenberg dancing!
The act is going to be LIVE streamed to New York at the New Museum, a great collaboration with the art collective AUNTS (lovely people just met them)!
COME
EVENT: http://on.fb.me/1yFOWYM
10 October 2014
Performing at the Opening of RADION Amsterdam!
ENKA goes dance I M P R O V
PIC: From our performance with Risa Takita at the opening of RADION Amsterdam!
9 September 2014
Tuesday 16/9 I Will Do An Interlude Performance In 4 Hours Long Theatre Piece
At Frascati Theatre Amsterdam
E V E N T
http://bit.do/PiEW
T I C K E T S
http://bit.do/PiE2
30 July 2014
This Friday 01/8 the premier of Dive Deeper a blend between my music and the choreography of Keren Rosenberg together with her crafted dancers at Vondelpark Openluchttheater.
7 July 2014
This Thursday together with Keren Rosenberg and her talented dancers we will be presenting our work in progress at the Melkweg Amsterdam! It will be a beautiful blend between my music and her choreography!
28 June 2014
And we are on TV in Slovenia! We brought Berlin in Ljubljana they said...funny we leave in Amsterdam!
Scroll to 28 sec to watch.
Meanwhile we are preparing for tonights gig in FESTIVAL LENT - Official site - in Mladinin Oder!
Bowrain
E V E N T
https://www.facebook.com/events/298552833653641/
28 June 2014
Tonight at Dansmakers Amsterdam Keren Rosenberg is presenting our work in progress with her massive group of dancers and my music
26 June 2014
Off to Slovenia to rock the stage with BOWRAIN again!
28/6 at Park Tabor and 30/6 at Mladinin Oder
Here is a little treat with a video
Video by http://spiralmove.com/
4 June 2014
Me and BOWRAIN made sure the stage would be warmed up well in our opening for Garden City Movement!
Thank you all for coming and supporting us!
29 May 2014
Next Tuesday I'll be in Sugarfactory performing with BOWRAIN.
We will be opening for Garden City Movement! Come and check it out!
28 March 2014
My music was performed at the SEA residence Sensing your Environment through Art residency program in Crete, Greece.
Dancer: Sara de Santis
Video Mapping: Emanuel Andel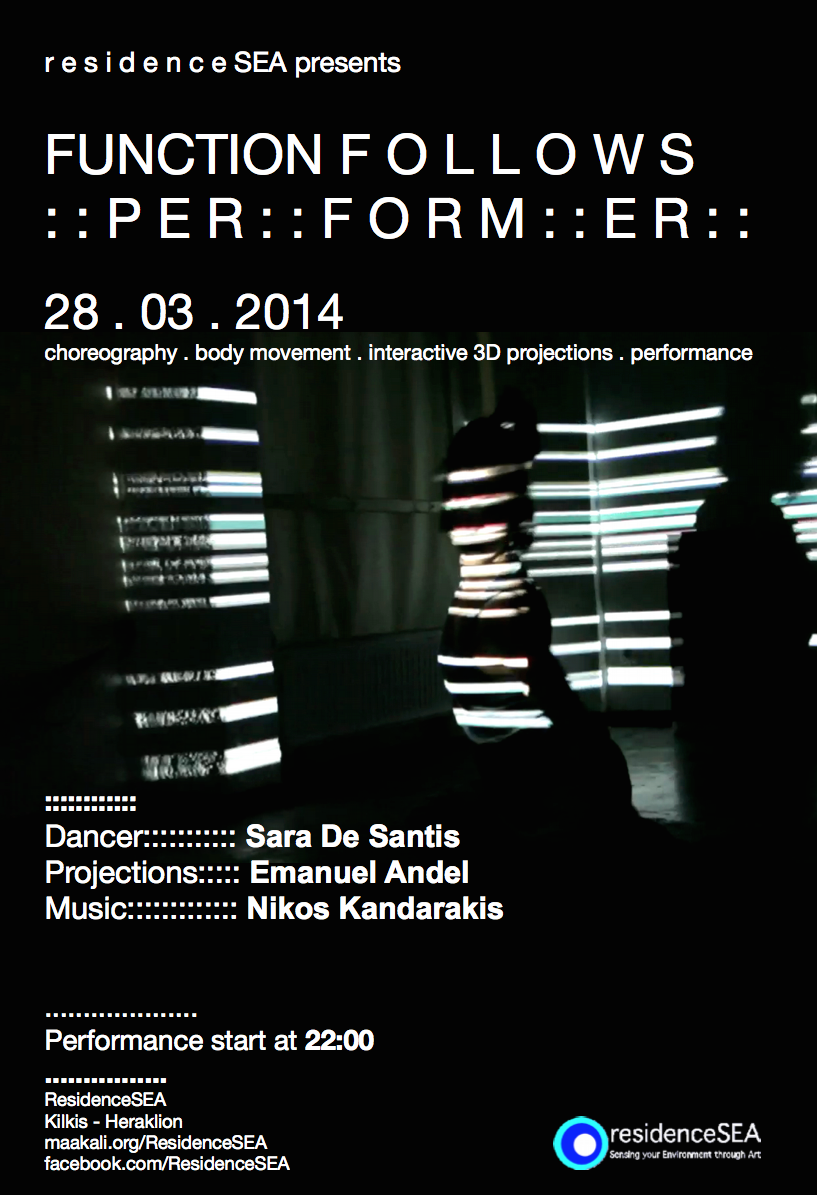 12 October 2013
ENKA @ Paradiso Amsterdam
4 October 2012
TEDx Academy Athens video uses music of ENKA
Video by Edit59
19 May 2012
ENKA @ The lovest event at the modern gallery of Ljubljana Moderna galerija.
19 April 2012
ENKA @ Pure Magnetic 4
6 February 2012
6 April 2012
ENKA @ Het Nutshuis, Den Haag
6 February 2012
ENKA "The Ilectronica Project"
Shot and edited by Panos Kostouros / edit59
19 JANUARY 2012
ENKA @ Roodkapje, Rotterdam
30 DECEMBER 2011
29 DECEMBER 2011
5 DECEMBER 2011
Official release of Reconfigure EP on Bigo & Twigetti
13 NOVEMBER 2011
ENKA wins Microseq remix competition
Winning track

More info at Bigo & Twigetti

1 NOVEMBER 2011
ENKA wins Microseq remix competition
6 AUGUST 2011
ENKA @ Panama Club, Amsterdam
16 JULY 2011
ENKA @ 330live, Den Haag
22 MAY 2011
ENKA @ Poortgebouw, Rotterdam
17 FEB 2011
ENKA @ Studio Loos short video peek






17 FEB 2011
ENKA @ Studio Loos, Den Haag
29 OCT 2010
ENKA @ B32, Maastricht
In between reality and the ilussion of reality, Ingo Binder transforms B32 Artspice into a specious forest. 3 projectors for one sensation. An instant plantation of visual memories supported acoustically by the live acts of Microseq and ENKA and a special sound set by Ingo Binder. Join a 5hour expedition in a forest without rain, but filled with unexpected sonic situation


12 JUN 2010
ENKA @ B.A.D. Foundation, Rotterdam